Articles
Continual Evolution & Development
The Franco Tombola Roulette has proven popular especially in the UK which must be very pleasing to the organisation?
Our Tombola Roulette is a unique product, highly demanded by the main casinos throughout the world and the United Kingdom was no exception. Tombola Roulette may be found in the most famous and prestigious British casinos, such as Aspers and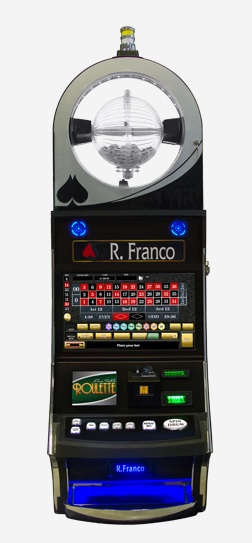 Hippodrome. Its technology and singular, attractive features make it stand out and become the star, with all the qualities offered by a wonderful game terminal. It is, no doubt, one of our best achievements and pride.
What aspects of your role are you finding most satisfying and rewarding.
Being part of such a successful 49 years old company with an ever exciting way to go, full of challenges which require the implementation of innovating technology, is a real pleasure and very rewarding to. It is a unique opportunity to manage a far-reaching Spanish multinational company such as R. Franco, a reference in the domestic market and a true symbol in the international market. To continue the development of this company, making it become adapted to the changing tastes of our customers and to changing needs is an exciting task and a growing incentive day after day.
What would you say are amongst the repertoire of skills and experience you have you gained over the years from your previous roles that you have employed most over the last 9 months.
Over the last few months, R. Franco provided me with the opportunity of contributing my professional experience accumulated for many years in decision-making positions, of working with a multidisciplinary team comprising top professionals within a leading industry in creativity, research, technology. In sum, to keep on contributing towards the development and expansion of a long-established large multinational of an unquestionable leadership.

What are the latest developments that you can announce with new games and cabinets along with systems?
The latest product developments include the two innovations which are being presented at the recent trade shows held throughout the world, from London to Macau. For example, for casinos we recently launched the game which is making R. Franco a reference in innovation dedicated to leisure: SIC-BO, the successful game of Chinese dice with three physical dice in three drums which make the drawing system. In addition, we are presenting a slant top cabinet with a 26" screen, a very versatile multi-station concept supplied in three modes: a roulette game with a physical cylinder and a roulette game with a physical drum.
What games for the online gaming market does R Franco currently have for that division of the Gaming industry?
R. Franco is currently present in the Spanish on-line market although indirectly, through our partner Orenes, which is holder of a licence granted by the Spanish government in order to operate casino, bingo, poker and betting games through the Internet.
Where is the next exhibition you are exhibiting at that readers can see all the latest games and cabinets for themselves?
The most recent show where we exhibited our machines was the Macau trade show, held just a few days ago. It is a symbolic place for R… Franco and a strategic location as the core of the Asian market, which is so important to us. Our next great date will be attending the ICE 2015, which Re. Franco attended in prior editions with our own stand. In addition to this highly relevant framework, our Company will remain present at all exhibitions and congresses showing our products developed in our home country: Spain. Furthermore, one of the targets R. Franco will aim at in the near future is the development of commercial activities and product presentation in local Spanish and foreign markets. We believe that our contact with our customer, making the product closer to the regions, has been key for our leading positioning combined with attendance to the most important international events.