Articles
Getting the message across
A head of Responsible Gambling Week 2019, we paid a visit to Shipley Creative's base in Leigh, Greater Manchester as they have been key in supporting and preparing materials for the RG Week campaign and The Bingo Association's own social responsibility machine messaging trial.
Shipley Creative first started working with the RG Week team in 2018, taking the existing Responsible Gambling Week identity, updating it for the 2019 campaign, and deploying it to a range of artworks for materials to promote the Week. Copy and messaging for the materials came as a result of independent consumer research and the RG Week team, with input from GamCare.
In readiness for the Week artworks were being produced for various print items (posters, business cards, leaflets, banners) and digital materials: including animation of static materials for use in digital environments, such as social media and web. Turning a static poster into an animated piece of digital collateral certainly brings it to life, making it more engaging, helping to get the message noticed and ideally read.
We are taken into the production area where state of the art print engines (large printers) were churning out posters, mailing pieces, bingo book inserts and flyers, with pull-up banners coming out on a separate large format printer: hundreds and thousands of printed products effectively and efficiently designed, printed and ready for despatch, whether as individually mailed items or bulk delivery to bingo clubs, AGC's, holiday parks, betting shops, football stadia and other venues across the UK. It was in the midst of this that we found General Manager, Anthony Halliwell.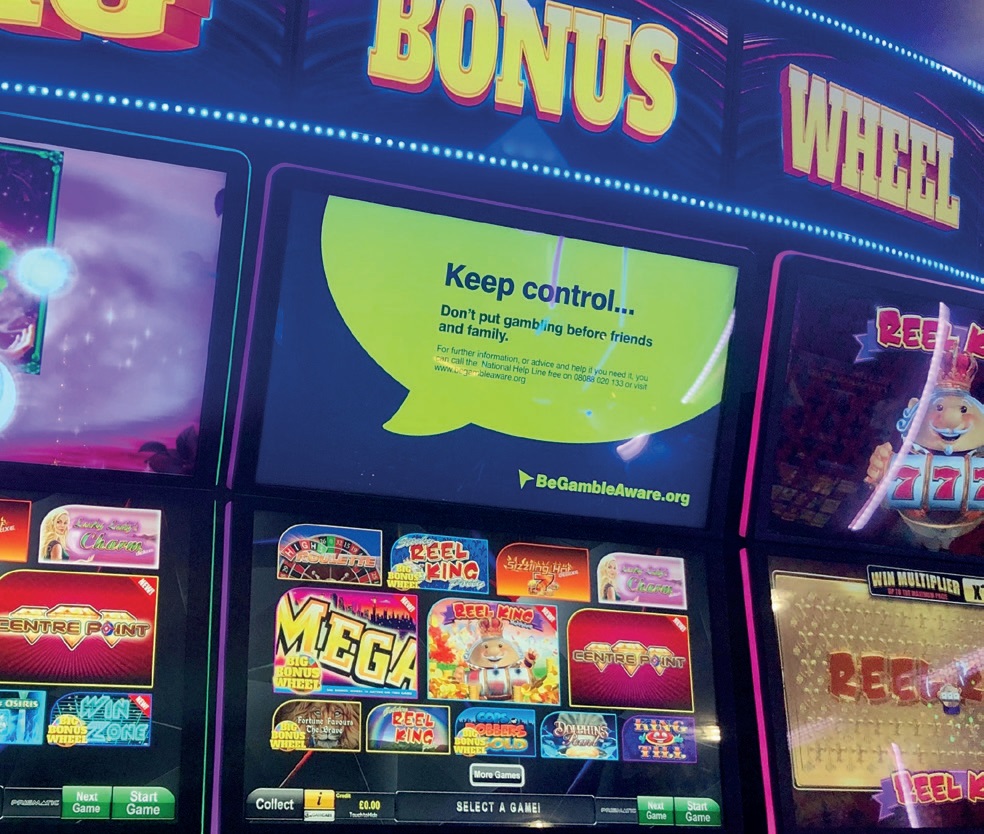 "Our team of graphic designers have worked closely with the RG Week team for many months to get to this point," Anthony explains, "working on various creative solutions in a wide range of formats, to ensure ease of access for the various organisations accessing them: this campaign goes across the entire gambling sector and beyond, to such organisations as Citizens' Advice and other information services.
"We have a full team of designers here who are able to take print designs into the digital arena, or vice versa, which proved valuable for the RG Week campaign. Our Video Designer Tony Mottram, was able to quickly translate static posters into basic animated video content for use across Facebook, Twitter, Instagram and web."
It was the ability to create animated content and understanding the diverse range of video formats and sizes that was to benefit both RG Week and The Bingo Association.
The Bingo Association had been exploring machine based messaging and how to get safer gambling messages directly in front of customers, at the point of participation, and were in dialogue with a number of the leading of messages being displayed on the top boxes of machines. The machine manufacturers were open to this route providing that:
• Their clients, who owned premises where machines were located, were in agreement
• That the messaging was approved by them and would not conflict with client messaging
• That material was provided in the correct format.
The Bingo Association, a strong supporter of RG Week, wanted to trial appropriate messages that built on, rather than challenged RG Week messaging and design. Through co-operation with the RG Week Team, the Association agreed to produce a range of messages, using some of the RK Week headline messages, in a design similar to RG Week but in completely different colours.
Anthony commented, "Our experience of RG Week meant that we were very well placed to assist The Bingo Association with its initial social responsibility messaging trial." Shipley Creative were familiar with the RG Week design and the Association's colour palette, so once messages had been agreed and a full list of the varying required video formats collated, The Bingo Association trial could proceed.
Working with the largest machine manufacturers Shipley Creative produced a suite of video graphics animating approved Association safer gambling messages. These were then loaded as advertising content and screensavers on a wide range of product from SG Gaming, Blueprint, Astra, and Inspired Gaming, who then distributed them to agreed machines on approved trial sites.
After trialling the video content in venues across the Midlands, The Bingo Association were pleased to report a positive response and recall from customers seeing the messages, which has resulted in an expanded trial, and messages have now been made available on the reverse of TITO Tickets.
When it then became time to start preparing for RG Week 2019 the key information obtained on video formats, and relationships built with machine manufacturers as a result of The Bingo Association's initial trial, enabled Shipley Creative to work with the RG Week team quickly to produce messaging content in the right format for the various machine manufacturers. As the vast majority of the machine manufacturers' clients had also committed to actively support RG Week this 'joined-up' approach to production and dissemination of safer gambling messages proved a great benefit all.
If you have any queries about The Bingo Association machine messaging trial or material please contact Paul Swindon at The Bingo Association: (T: 01582 860921).
For further information on RG Week please visit: www.responsiblegamblinguk.org. For enquiries regarding print, digital, and TITO tickets please contact Shipley Creative:
e: theteam@shipleycreative.com or T: 01942 364500, 7 days a week.