Articles
For the love of Bingo!
Paddy Cronin, CEO of Edward Thompson chats to Bingo Life 
The name Edward Thompson (ET) is for many synonymous with all things bingo, having started out over 150 years ago in Sunderland. They produced their very first bingo ticket in 1958: with the first commercial bingo club opening in 1961, by 1965 Edward Thompson were producing more than 50 million tickets every week.
While times and technologies have changed, ET remain very much in the bingo firmament and have evolved and expanded. Bingo Life caught up with 'Mr Bingo' himself, the larger than life character that is Paddy Cronin, CEO of Edward Thompson, a direct descendant of the man who started it all.
Everyone in bingo knows Edward Thompson, and a great many know you personally, but when did it all start?
"The company began in 1867, in a print and stationery shop on Sunderland High Street and was started by my great, great, great uncle, Edward Thompson. He is the man who set it all in motion."
So that is some 151 years ago: printing has always been an important business and a highly competitive one. The arrival and subsequent explosion in popularity of traditional bingo must have been a great opportunity for expansion and then again in the 80s when so many newspapers were using bingo type games as promotions, how have tickets changed?
"We started producing tickets in 1958 and were then built into the largest supplier of bingo tickets in Europe by my father Frank Cronin. Today's bingo books can feature variable full colour pages and be personalised with the club's name, a feature introduced by Edward Thompson. The improved print technologies now available and that we have invested in, allow for such a wide range of options and speed of production that were not previously possible: there is plenty of innovation, showing that life does begin at 60."
You mentioned your father, Frank, when did you take over the business?
"I have worked in the company since 1988 and took over as CEO in 2010, prior to that my brother Phil had been CEO."
The company started out in printing, expanding into bingo, but what is the main focus of the business today?
"The company is still the leading manufacturer of bingo tickets, so that has remained a constant: printing and bingo have both created opportunities for expanding. We supply bingo related products such as dabbers, mailers, scratchcards and posters and promotional material, many of which can be order direct though our web to print facility. We also still offer a full range of commercial print and high quality litho facilities and are the leading supplier of promotional games in Europe, with full service mailing house. This enables us to produce promotional campaigns for many leading brands including CocaCola and Nintendo, as well as bingo operators such as Gala and Carlton. Our main focus is to stay as the number one full service supplier to bingo clubs, and as such we also offer a full range of electronic bingo."
As number one, who are your customers in land based club bingo?
"We supply most of the major players in the bingo industry including Gala, Castle, Carlton, Majestic, Club 3000 and many others including independent clubs and casino chains such as Aspers. Outside of traditional bingo we still also supply tickets and promotional games to national and international newspapers such as the Daily Mail and The Sun."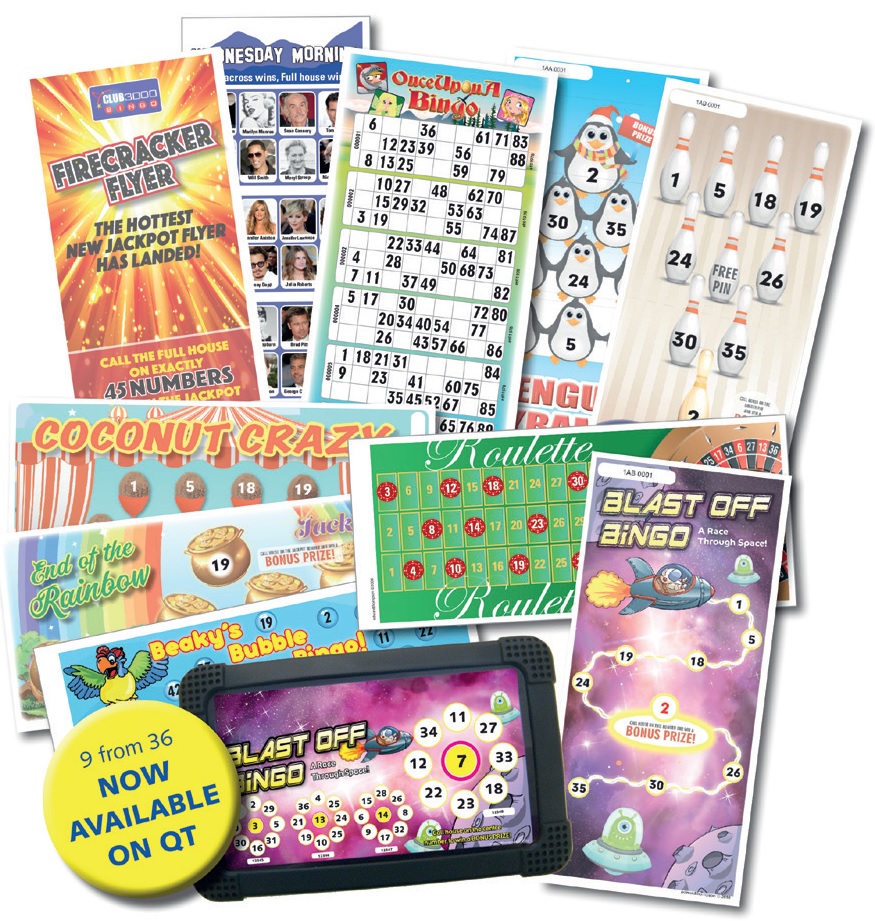 Having worked in the business, for what is now 30 years, have you seen it change?
"Immeasurably, we used to print bingo balls and supply blowers: there may be some readers who won't know what they are. Equally the volume of tickets we print has reduced, as today a third of players play electronically. Technology has changed what is needed to play games but has also enabled new games and ways of playing to be created."
Having seen such substantial changes in the business what key challenges do you see ahead?
"The industry needs to focus on external competitors to thrive. It needs to understand the changing leisure market and adapt its products and services accordingly, we are not just part of the bingo business, or gambling industry: we are part of the leisure sector and as such compete against a wide range of leisure activities, competing for consumers' time as well as their spend."
As people's leisure time has increased and the leisure market expanded, how do you see the future for bingo?
"Bingo is an ancient game, played for over 1,000 years, if commercial bingo evolves it has a great future ahead. People always love a chance to play and a chance to win: our challenge and job is to work with the industry to package it correctly."
So after 30 years in the business, both bingo and Edward Thompson, what makes you proud?
"We are over 150 years old, still leading the way and innovating and 100% British owned and run."
Paddy's enthusiasm and passion for the business and for bingo is refreshing and we suspect infectious: remaining a major player in the bingo industry takes a lot of energy and commitment. Having an equally enthusiastic team is also key. Whilst talking to Paddy we also go the chance to chat to Head of Sales at Edward Thompson, Alan Morrison:
Having heard Paddy talk a little about the changes to bingo tickets, could you tell us more?
"Well apart from us introducing the first colour commercial bingo book in early 2010 we offer a full range of books from top-glued flip books to side-glued books, linked and non-linked. This year we are offering a whole new way of ordering with 3 day turnaround times, which should greatly assist our customers. We have also introduced 9 from 36 tickets, for a faster fun game: we currently offer 7 fun 'off the shelf' themes with every game jackpot compatible and able to be played 4 to view. These are now available on our electronic handheld terminals as well and have a fully developed TDM. And of course we also offer a bespoke design service.
"We also have Printeazi, which is a bespoke product that gives customers the freedom to manage, personalise and order print directly, saving time and money. It can used for anything, from leaflets and posters to full colour variable direct mail and can be integrated into leading industry membership management system Maxim.net. With templates designed bespoke to your requirements, Printeazi can be accessed any time of the day from any internet enabled device, including mobile and tablet. With turnaround times of under 24 hours, it puts our customers in total control."
"Our new product guide provides a comprehensive overview of our full range of supplementary print and mailing offerings to the leisure industry and is available from a member of the team, who will be happy to send out a hard or an electronic version, by request."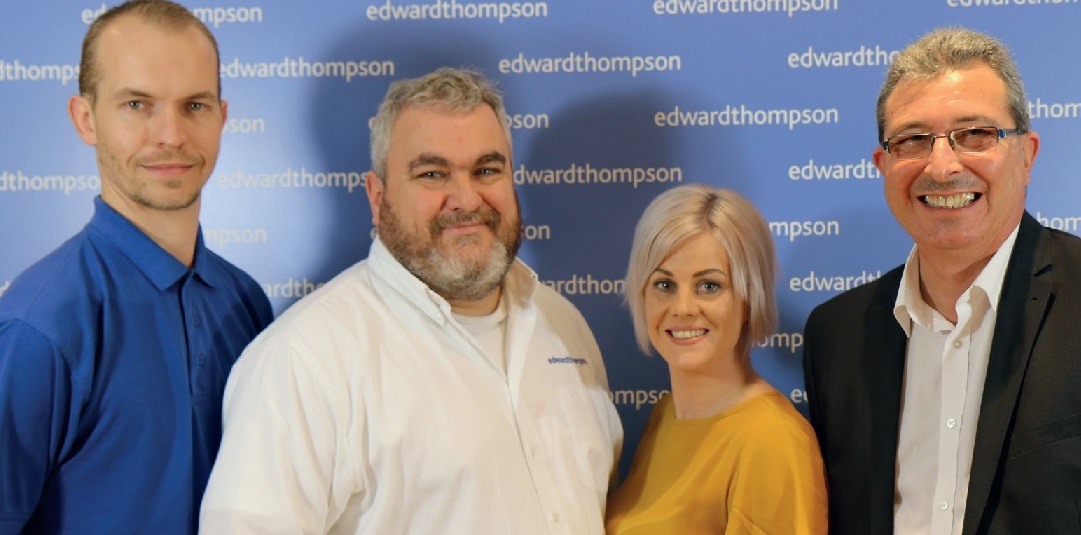 Image: Left to right: Edward Thompson's Quinton Stephens, Paddy Cronin, Kirsty Walker and Spencer Hawksworth
You mentioned electronic handhelds, which are increasingly popular, what development has there been on electronics?
"We have two new bingo calling options: Ezycall is a tablet based system with HD output and flexibility for the caller to be mobile in the hall, offering 9 from 36, 75, 80 and 90 number bingo, and Powercall, an exciting supplementary option to existing calling equipment. Offering a huge variety of fun jackpot and themed games, an unrivalled selection of HD animated promo games with TV gameshow quality graphics, and high quality sound these are all about entertainment. These games work exceptionally well with our industry leading handheld terminals, which now offer improved charge racks and new point of sale. These units are constantly being development and improvements added."
Customers love something new, what does Edward Thompson have available to excite players?
"Our 'Big Fun Button' allows clubs to bring a bit of gameshow razzmatazz into bingo: it's a wireless button that allows players to participate in a range of prize mechanics including Wheel of Fortune, Roll the Dice, Card Draws and much more. This can be provided with branded animations and can be used to drive membership, incentivise winners and add sound, colour and excitement, offering something extra."
While many people know Paddy, he can't be everywhere at the same time, who are the other faces at Edward Thompson that people might expect to meet?
"We recently restructured our bingo team to give a better customer support and interaction, backed up by client services and design departments, with the aim of providing clubs and operators with regular visits from recognisable knowledgeable and helpful contacts.
"The resulting ET Team is: Kirsty Walker, Regional Sales Manager for Scotland, Northern England, North Wales, Northern Ireland and Eire. Coming from a design background, Kirsty can advise on the best way to create and implement messages for maximum impact and exposure. Spencer Hawksworth, Regional Sales Manager, for the Midlands, Southern England and South Wales, who brings a wealth of sales experience and will help identify ways to engage with customers to obtain maximum attendance and participation. Quinton Stephens, our Electronics Support Manager and is responsible for all things electronic: an IT expert with a great knowledge of games and systems, he will help clubs install and maintain their electronic games.
"Kirsty, Spencer and Quinton are all backed up and supported by the Client Service Team: Nadine, Jodanna, Hillary and Kassie, who are all on hand to help."
W: www.edwardthompson.com T: 0191 514 4199 E:clientservices@edwardthompson.com
Interview originally published Summer 2018 edition Bingo Life magazine