Articles
Millennial Potential
Rebecca Green chats to Ewa Bakun from Clarion Events ahead of this year's GiGse San Francisco 
This is GiGse's 15th Show, what is this year's show theme and focus and why?
2015 is about changing a narrative, i.e. re-defining the way the industry talks about itself and iGaming to affect a change. While regulated iGaming in New Jersey, Nevada and Delaware hasn't delivered on the revenue expectations due to a variety of hurdles, it has demystified many concerns voiced by its opponents: geo-location has proven to keep gaming within the states' lines, gaming has kept to the strict responsible gaming measures and online has had a positive effect on the land-based operations by delivering new customers, rather than cannibalizing them.
It's also about finding a way to engage with the 'Millennials' – through an online or social strategy that can be executed right now, but also by appealing to newer generations of players with games based more on skill, by implementing new ways of delivery (like on-property mobile and interactive tables) and by changing the casino design. The 'Millennials' stream opens GiGse's universe up beyond iGaming to really look at how casinos can prepare for the future and compete for a share of entertainment time (and pockets) of gamers.
Who are the headline speakers at this year's conference, and can you tell us a little about them?
Apart from some of the leading stakeholders that are either already operating in iGaming and social gaming (like Caesars, Tropicana, Pala, NJ DGE, Delaware and Michigan Lotteries), GiGse features outside the industry speakers this year. Frank Luntz is a renowned communications expert who will educate the GiGse audience, eager to influence change at the political levels in states such as California and Pennsylvania, how to communicate more effectively with both policy-makers and the consumers, and change the perception of iGaming.
Players psychology expert, video gaming veteran and author of Glued to Games: How Video Games Draw Us In and Hold Us Spellbound will deliver another keynote on how casino companies can appeal to, and monetize better, the 'Millennials' who grew up playing video and 'free-to-play' games. We're bringing experts from video, casual, social, even puzzle gaming sectors, plus we have also just confirmed a presentation from the growing eSports industry that draws masses of gamers, with demographic that's very appealing to casinos, in a spectacle of gaming and entertainment.

What will be the key topics especially with regards to online Bingo?
Tropicana recently launched a bingo product and they will surely talk about that during the event. Due to the nature of iGaming regulation in the USA, most focus is on poker and casino games, with bingo playing an important part as a social product.
Millennials, sportsbetting, social and free-to-play gaming, regulatory changes in states such as Pennsylvania and California, investment and iLottery are some of the key topics for 2015.
Start-ups and innovative newcomers are very much part of the GiGse experience. What is in store for this year's Start-up LaunchPad competition and start-up zone on the expo floor?
As every year, GiGse will host the competition and San Francisco has always been a great venue for that, considering the number of start-ups and VCs in the city. We have just closed submissions and are just about to announce the finalists. The interesting development this year, just by looking at the submissions, is the lesser focus on social gaming and many more applications representing a sports betting or fantasy sports product. We have also received some interesting submissions that cater to the land-based operations and breach the gap between online and B&M. As every year, we've had a couple of interesting lottery products and new game formats so you can expect to see at least one start-up falling in the category. eSports also seems to be on the rise, which is also reflected in the kind of start-ups you'll be able to see.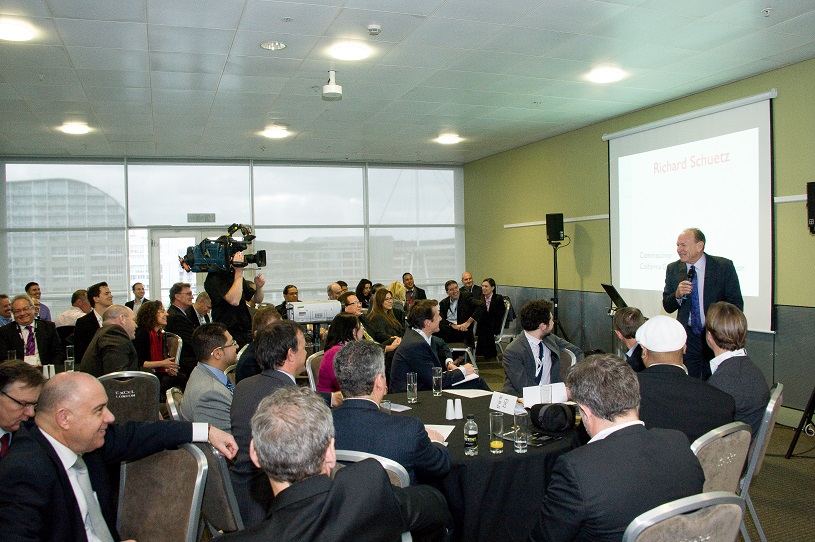 And finally how can delegates or exhibitors get involved for this year's show in San Francisco?
We welcome everyone to register for the show by visiting www.gigse.com and the involvement opportunities are vast with the new format, called Open Space, that we're introducing. It abolishes the barrier between speakers and the audience and brings the conversations to the level of intimate peer discussions that are much more organic and conducive to building relationships. That new format is our response to the calls that we have been hearing from our delegates who want more interaction and who keep telling us that they often learn as much, if not more, in conference halls or during coffee breaks.
GiGse is very much an educational event that people attend to learn, but it also has an exhibition floor and is great platform for any kind of supplier, of real-money gaming or social product or service, to profile themselves as thought-leaders and showcase their products to our high-level audience, out of whom 48% represent operators.