Articles
New roles
The Bingo Association's new Head of Governance and Compliance, Paul Swindon
The Bingo Association was pleased to announce a new member of its management team at the end of last year, Paul Swindon, who joins Chief Executive Miles Baron and the team from the British Association of Removers. While not joining immediately from a gambling background, Paul is no stranger to the industry or trade associations.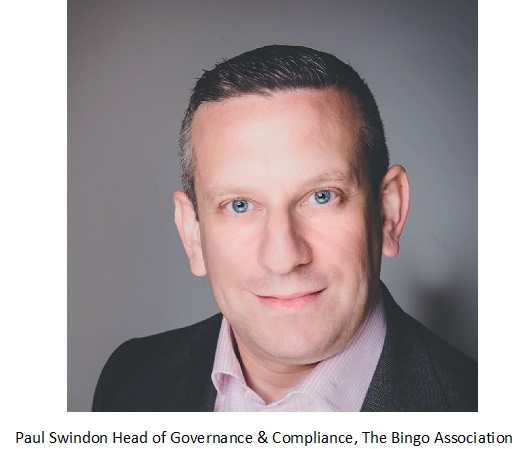 Born and bred in Harrow, Paul studied Business and Finance, attending college in Watford, and currently lives in Hatfield: in respect of the Association's offices in Dunstable, he has always been very much a local.
It was while at college that Paul received his gambling industry induction, through working at Ladbrokes in their then Head Office in Rayners Lane: coincidentally the MD at that time was Chris Bell, who is currently a member of the Rank Group Board.
While Paul's induction was very much at the sharp end of the business, in the Telephone Betting Centre, it did give him his first brush with fame taking bets from a wide variety of customers including celebrities, sportsmen and TV personalities. On one particular occasion Paul received a request from a Mr O'Connor to place a larger than usual bet on a rugby match. Always diligent and mindful of procedural and compliance issues, Paul told the client that in light of the amount he would need to seek approval from his supervisor: while Mr O'Connor was less than impressed at being kept waiting, Paul did receive approval to accept the bet from his supervisor, but with an unusual aside: give him anything he likes, as long as he does not sing!
Paul's attention to detail served him well and he was later promoted to the Bet Authorisation Centre (BAC) at Ladbrokes: it was clear at that time that the die was cast for a career connected to regulation and compliance matters. Whilst at the BAC he also witnessed sporting history in the making, as jockey Lanfranco 'Frankie' Dettori won all seven race at Ascot in September 1996, creating an air of excitement, not only on Ladbrokes finance department!
Moving from BAC to BAR (British Association of Removers) in 2004, Paul took up the post of Membership Services Manager. During his time at BAR he held a number of management roles, including Commercial Manager which saw him take responsibility for, and management of, membership recruitment and retention, annual conferences and events, plus all promotional, marketing and media activities.
In October 2012 Paul was promoted to the position of Company Secretary and Head of Compliance for BAR and its group of subsidiary companies. As part of the senior management team, supporting the Director General, he was guardian of a number of key assets including the Association's Rules, membership criteria and Code of Practice, in addition to being actively involved in a number of internal working groups and external stakeholder groups.
Having been at BAR for 15 years, Paul has established an enviable raft of skills and experience, he said, "I felt that I wanted a new challenge in an industry or sector quite 'removed' from the removals and storage industry. Having always enjoyed working in a Trade Association, representing Members at industry level, the challenges that Governance and Compliance bring, my ideal was a new trade body, rather than a complete change of roles. When the post with The Bingo Association arose it was too good an opportunity to pass up. It really appealed to me, offering the change in sector I was looking for and the familiarity of a Trade Association, in a sector that I have some previous experience of."
Paul's interest in all matters procedural and compliance related also extends to some, but thankfully for his family's sake, not all of his free time outside of work: currently he is Vice Chairman of the Independent Compliance Assessment Panel (ICAP) for the Motor Ombudsman. This is a select committee tasked with monitoring effectiveness through the review of annual performance data, analysis of accredited business performance and compliance issues, and the application of sanctions should they be required.
During his spare time he likes to spend as much time as possible with family and friends and follow Tottenham Hotspur. In addition to being a spectator of football, he is also a keen martial artist, currently learning Karate alongside his son, which he told us was both special and painful, in equal measure. But beware, they are both just two grades away from their 1st Dan Black belt!
However, he assures us that his main passion is music: specifically playing guitar and more recently the bass guitar, considering himself an 'aging rocker' who has played for a number of bands over the years and written a ton of music. The realisation of his boyhood dream, Wembley – playing live, not playing football – however, still eludes him, but his love of 90s American rock band Matchbox Twenty helps keep the flame burning.
Despite a full schedule he is still very much the doting father and fun-loving husband, with a penchant for professional level wind-ups: with his attention to detail and liking for compliance, we advise all to be alert and welcome Paul to the bingo industry and gambling sector.
This interview was originally published in January Spring 2020 edition of Bingo Life Magazine Issue 31