News
NRM's mobile membership app is the communications and engagement tool of choice for major brands
A growing number of respected entertainment brands including Beacon, BJ's, Carlton, Cashino, Club 2000, Majestic, Shipley's and Tan Express are among the well-known high street names to specify and deploy the NRM developed Mobile Membership app. The Open Architecture app enables operators to engage directly with customers 24/7 increasing the quality and relevance of communications while also reducing significantly a venue's marketing and promotional overhead.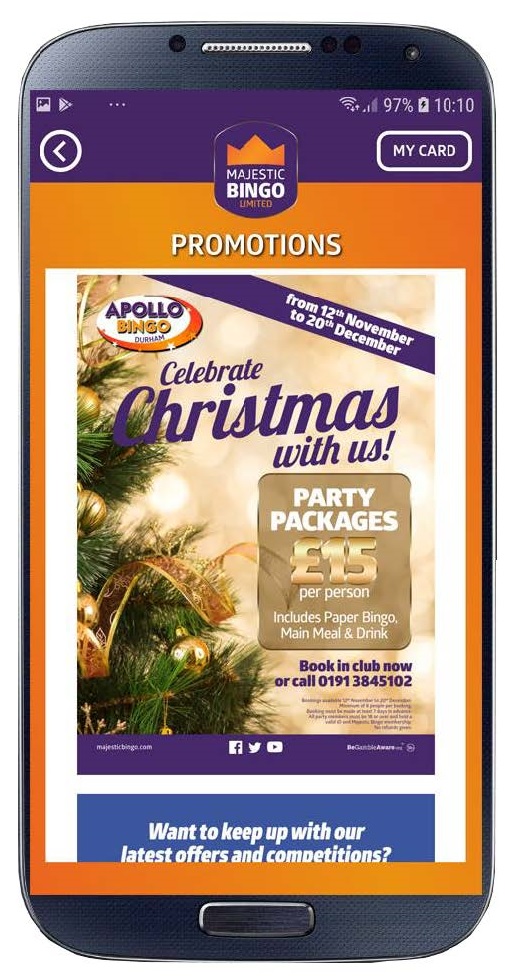 First launched and deployed in BJ Bingo clubs in Q1 2017, the app has been able to grow and develop thanks to NRM's strategy of using open architecture technology.  Managing Director Andrew Ludlow believes the combination of powerful technology and its flexibility is at the core of the app's popularity with progressive, agile brands that place the end-user right at the heart of the proposition.
 
He stated: "We've very consciously adopted an agnostic approach which has given us the opportunity to work alongside our customers and to evolve with their needs and requirements.  As a consequence we are able to link into existing loyalty and membership solutions as well as our own, customise the core application in line with brand guidelines and create bespoke versions of the app as a joint development in partnership with our customers.  Because technology should not be a straightjacket, our app is constantly evolving driven by the input and requirements of our customers.  It's a dynamic proposition and an effective way of working."
 
The NRM app has a myriad of uses and features. It serves as a membership card, reducing printing and the cost and inconvenience of issuing plastic membership cards, which in turn enhances the customer experience.  It is GDPR compliant handing the customer total control on their contact and marketing preferences.  As well as providing essential information on venue locations, prices and opening times it also acts as a highly focused marketing tool for venues to promote current and future promotions, keep customers up to date with the latest product offers, play games for fun or points and enhance loyalty through issuing vouchers and enabling the user to collect and redeem points in venue.
 
Andrew Ludlow concluded: "The NRM app is innovative, interactive and enhances the level of engagement a brand is able to have with its customers.  All of these features explain why over a short period of time we have been able to gain such an enviable list of leading sector customers.  While the app was first deployed in Bingo I am delighted to confirm its success across other gaming sectors where there is a need to engage with customers in a powerful, efficient and cost effective way."